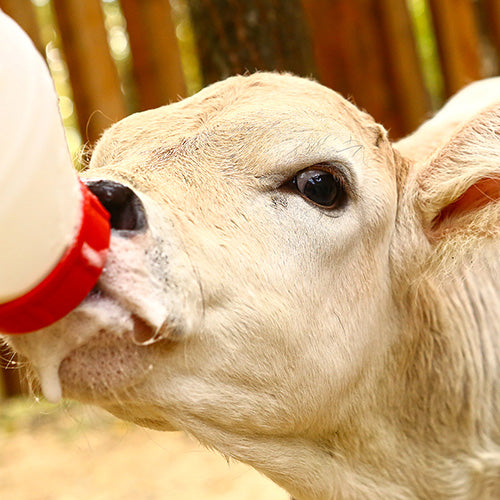 Which Sav-A-Caf® milk replacer is right for your calves?
Calving season is an exciting time on the farm. Seeing new life enter the world never gets old. To make sure your little ones get off to the strongest start possible, it's important to have quality nutrition at the ready. Whether it's your farm's typical process to bottle feed or you need to step in and support a calf that's unable to nurse, Sav-A-Caf® products are there to support you.
One of the first steps after birth should be making sure your calf receives quality colostrum during their first 12 hours of life. Calves are born with an immature immune system and have little to no immunity against diseases. Colostrum contains antibodies known as immunoglobulins, such as IgG, that help protect newborn calves against diseases.
After they receive sufficient colostrum, your calves are ready for milk on the next feeding. Sav-A-Caf offers several milk replacer formulas to choose from. Let's compare and contrast the options to help you find the perfect fit for your calves.
Sav-A-Caf® Milk Replacer Products
While there are differences among the formulas, several things are consistent with all of them. No matter the Sav-A-Caf product you choose, you can trust they are made with high-quality ingredients and provide complete, balanced nutrition.
Knowing what it's like to mix up formula in the barn and bottle feed spunky calves, we also put extra effort into ensuring our products are easy to mix, feed and store so you can spend less time fumbling with packaging and more time caring for your animals.
Now, let's dive into their points of differentiation.
Performance Calf Milk Replacer
Protein/Fat Ratio: 20% protein, 20% fat
Protein Source: All milk.
This milk replacer contains all-milk proteins and is formulated specifically for optimal digestibility and performance. It supports calves with added vitamins and minerals that support the immune function, digestive health and muscle and bone development.
There are three Performance Calf Milk Replacer formulas available:
Non-medicated for flexibility of feeding rates.
Medicated with Deccox® for the prevention of coccidiosis.
Medicated with Bovatec® for the control of coccidiosis. 
Protein/Fat Ratio: 20% protein, 20% fat
Protein Source: Blend of dried whey and soy protein concentrate.
Sav-A-Caf Wellness Calf Milk Replacer provides complete nutrition with added digestive support. Formulated with probiotics and added vitamins and minerals, this milk replacer helps support early calf health, especially in times of stress.
Protein/Fat Ratio: 20% protein, 20% fat
Protein Source: Blend of dried whey and modified soy protein.
Formulated with a blend of highly digestible proteins, Value Calf Milk Replacer supports calves from head to tail with added vitamins and minerals to support overall health, growth and development.
Hi-Nutra® PLUS Calf Milk Replacer
Protein/Fat Ratio: 20% protein, 20% fat
Protein Source: Blend of dried whey protein concentrate and animal plasma. 
Sometimes, calves face certain nutritional challenges early, or they may experience stress that can impact their immune and digestive function. In times like these, reach for Hi-Nutra Plus Calf Milk Replacer. Functional proteins and vitamin E work together to aid immune system development while probiotics support the digestive system. Added vitamins and minerals are also included to support muscle development and skeletal growth.
Ultra 24™ Multi-Species Milk Replacer
Protein/Fat Ratio: 24% protein, 24% fat
Protein Source: All milk.
If you're looking for a convenient, high-quality formula option you can keep on hand to feed the young animals in your barn, Ultra 24 Multi-Species Milk Replacer is an excellent choice. Formulated for calves, foals, piglets, lambs, goat kids, llama and alpaca crias, fawns and elk calves, this high-energy, high-protein formula contains all the nutrients your calves need for a strong start. It can also be used for supplemental nutrition and fed as a dry powder if you need to provide some extra nutrients during weaning or other times of stress.
As you consider your options, it's always a good idea to review and make sure you understand all aspects of the milk replacer label. Regardless of which milk replacer you choose, we're proud to be part of your farm journey and are here to support you in raising happy, health calves.
Find Solutions for Your Animals
January 11, 2022

Whether housed in a coop or free ranging on your farm, your birds are exposed to multiple threats every day that could cause illness or impact their well-being. Now there's a way to be more proactive with regular support for...

April 6, 2022

You've raised your chicks to adulthood and now they're fully feathered hens. Way to go! Now, you get to enjoy their eggs and companionship for years to come. To maximize their life, support their production potential and kee...